Demand Performance (a double album - 118 minutes of story & song)

Self-Propelled Music ASM107D (2020)


Physical CD price: €12 plus shipping from Ireland. Please contact Tom for full cost.
OR.....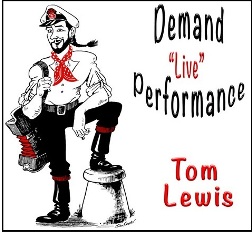 Purchase this as a digital download from
Bandcamp.
Over the years, I have had many requests for 'the stories' with which I introduce/accompany/interrupt much of my stage repertoire. I have tended to resist these blandishments; on the grounds that stories do not bear the same repeated listening, more easily borne by songs. This album is a capitulation to the desires of those supplicants. I accept responsibility for it … but with considerable trepidation! Thus the first CD comprises seven tracks (recorded at live performances at Mystic Seaport & Northwest Seaport) including their lengthy introductions. The second CD (recorded in studio) is a selection of some of my favorite songs that haven't yet made it onto any of my recordings.
Click on

to listen to a sample of the song. Click on the song title to see the lyrics.


CD One (LIVE) - All Tracks Have Extensive Introductions/Interruptions















Bunts … ah, yes … Bunts.
A loveable little rogue, with a self-image far in excess of his quite diminutive stature, or his total lack of pedigree. Nowadays some of his care (treatment?) would, probably, be regarded as abuse; 'though he was universally revered, and cared for in the same manner as any other messmate or shipmate. Whilst he was exercised as much and as often as practicable, and apparently quite healthy; it was probably the fault of Striker's crew that he was an 'old sot'! He never refused any offering of either beer or grog, but his perpetually genial demeanour, and the appreciative welcome he received at every turn made us all feel that he was living a happy life.
Whilst the story of the dog's court-martial is essentially as it happened, I have always reproved myself for not checking the local papers on the following days. There were certainly enough media people at 'the scene of the crime', to report something!!! True to the traditional life of a sailor; we – and Bunts – departed the vicinity before any possibility of 'blow-back' might arrive …in the form of puppies.

(Note … A rating of the Communications Branch would be a Signals Rating: a 'Signaller'. In real life he would be referred to as: a 'Bunting Tosser'; and addressed as: 'Bunts'!)

CD Two (STUDIO)