Chapter & Verse
"Widely acknowledged as North America's finest exponent of contemporary nautical songs" (it sez 'ere) (Canadian Society for Traditional Music), Tom Lewis brings to the stage wry humour, button accordion, ukulele, a great voice and his unique experience of more than 40 years bridging the sea-going and folk-singing communities.
Born THOMAS JOHN LEWIS on April 16th 1943, in Belfast, Northern Ireland; then moving with his family to Gloucester, England for his Grammar School years; Tom joined the Royal Navy as an Engineering Apprentice in 1959, just a few days after his sixteenth birthday.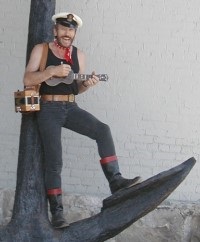 Posted to a naval training establishment in Scotland in 1960, he soon started frequenting THE HOWFF Folk Club (in nearby Dunfermline) being exposed to such luminaries as Willie Scott, Alex Glasgow, Ewan McColl, Archie Fisher, John Watt, Louis Killen, et al. Strangely; considering later developments in Tom's interest in contemporary nautical song; one of the few folk singers to whom he was not exposed during those three extremely formative years, was Cyril Tawney. Around this time, Cyril and his songs were becoming celebrated throughout the world of folk music and soon came to have an enormous influence on Tom's own development as a writer and entertainer.
During a 24 year naval career (mainly in diesel submarines) Tom managed to juggle the requirements of the service with a growing commitment to participating in folk clubs, concerts and festivals; sometimes solo, often with his first wife, Kate and, occasionally, as a member of various groups. (You can hear LONG FELT WANT, on a couple of tracks on the MIXED CARGO CD.)
Pressures common to service life eventually caused Tom and Kate to go their separate ways, though now they are firm friends, linked by their children: Mike and Jane; and four grandsons.
Meeting and marrying Lyn coincided closely with Tom's first foray into songwriting, with the arrival of his "LAST SHANTY"; a song which Tom has always claimed emerged fully-fledged, rather than requiring to be written. The recording of this song, by Johnny Collins and Jim Mageean; on their MAKE THE RAFTERS ROAR album; followed by having them featuring another Tom Lewis composition: "MARCHING INLAND" on the LIVE AT HERGA album; was a watershed. Since that time, rare is the 'song session', in the English-speaking world, which does not include at least one of Tom's songs. "LAST SHANTY" features in the sequel movie of the Fisherman's Friends - 'One And All' (release date August 2022).

On completion of naval service in 1983, Tom and Lyn emigrated to the mountains of British Columbia: ... 'in order to be somewhere completely different to a large port city' ... and Salmo, B.C., Canada is certainly all of that! Within a short time Tom's work was being interrupted, to a greater and greater degree, by an increasing number of calls from a fast-developing 'fan club'; initially in the Pacific Northwest, then all across North America. Eventually, in 1987, chafing at separations which ought to have ceased with naval service, the couple decided to 'take the show on the road' for a while and see where the road might lead. The first place it led was to a recording studio and Tom's very successful debut album: SURFACING.
Now after thirty five years; hundreds of thousands of miles in cars, motorhomes, trains and aircraft; tours in Australia, New Zealand, Britain, Europe, Canada and the United States; major festival mainstages and tiny, under-promoted coffeehouses; and eight more recordings; for Tom and Lyn the road just keeps on unwinding before them. Family commitments brought them back to the UK in2013, and they now reside aboard their boat on the Boyle River near Carrick on Shannon, in Ireland. In a way of life where enormous success is not having a day-job, Tom Lewis has translated his love of singing into that 'enormous success' and more - his previous existence as a sailor - and his reincarnation as a musical ex-sailor - bringing enjoyment for all.